Electronic Disposal & Recycling in Garland, TX
With technology rapidly advancing and new gadgets released yearly, it's easy for drawers, closets, and garages to fill up with outdated electronics. At RetirePC, we make it simple and rewarding to responsibly recycle electronics such as your used computers, phones, printers, and other electronic waste.
Don't let your office become a storage space for retired electronics. Give them a second chance at life with electronic waste disposal through RetirePC. We provide a range of electronic recycling services, including secure data destruction, hard drive disposal, as well as buying and selling old computer parts in Garland, Texas.
How To Recycle Electronics Near Me
There are important environmental and privacy reasons to properly recycle aging electronics rather than throwing them in the trash.
Recycling with an R2 Certified electronic recycling center like RetirePC, keeps hazardous e-waste out of landfills. Many electronics contain toxic materials like lead, mercury, and cadmium that can contaminate groundwater if disposed of improperly. We ensure these chemicals don't make their way into the DFW areas soil and water and preserve the environment with our recycling best practices.
Recycling also preserves natural resources. Recycling allows materials like aluminum, copper, gold, and plastics to be recovered and reused rather than mining or producing new raw materials.
Recycling electronics at our Garland recycling facility protects your privacy. Simply deleting data from old hard drives doesn't completely remove sensitive financial, medical, or personal information. Recycling with our guaranteed data destruction process protects you and your customers from identity theft.
Finally, electronic recycling is the responsible thing to do. Electronics recycling is required by law in many areas. Even where not mandated, it's an environmentally conscientious choice that generations to come will be grateful for.
What Electronics Can Be Recycled?
RetirePC accepts a wide range of electronic items for recycling. We specialize in recycling DELL, Compaq, IBM, HP, Lenovo, and Cisco products.Some of the accepted electronics safe for recycling and disposal are:
Computers: desktops, laptops, servers, monitors, keyboards, mice, cables, printers, scanners

Mobile Devices: cell phones, smartphones, tablets

Entertainment: stereos, speakers, DVD/Blu-ray players

Home Office: fax machines, routers, modems, telephones'

Video Game Systems and Games
We're ready to recycle most electronics outside of CRT monitors or TVs. We're ready to recycle most electronics outside of CRT monitors or TVs. Take a look at RetirePC's accepted Electronic Items or give us a call us if you're unsure about an electronic item.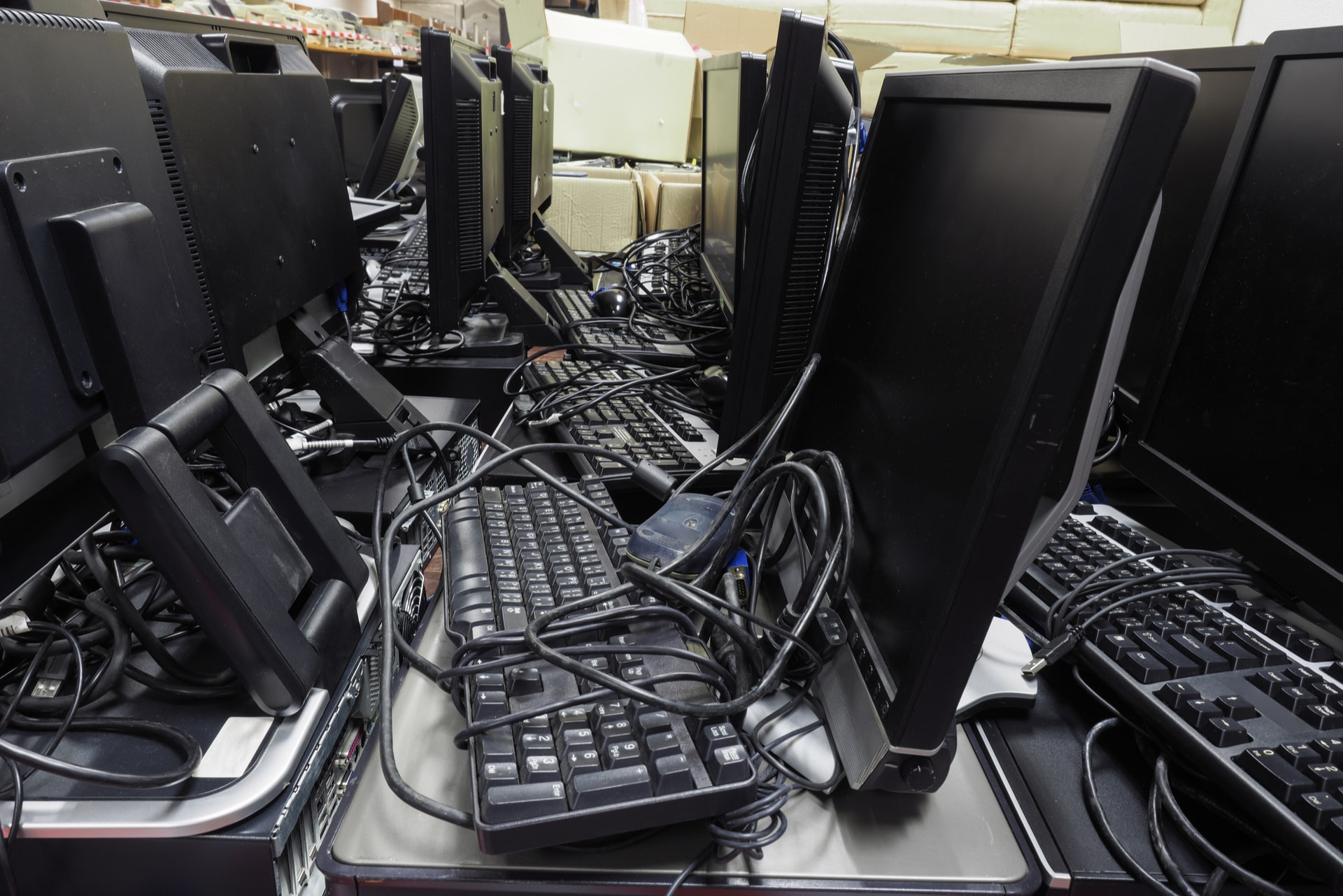 Why Choose RetirePC For Electronic Recycling?
With over a decade of electronics recycling experience, you can trust RetirePC to handle your electronic waste disposal securely, safely, and responsibly. Here's what makes us the best electronic recycling center in Garland, TX.
Reap the Rewards With Our Electronics Buyback Program
Turn your old electronics into quick cash! Our buyback program offers great value to sell computer parts, used smartphones, tablets, laptops, and more based on condition, age, and demand in the resale market. Simply stop by our electronic recycling center for an appraisal and instant payout if we can resell your device.
Remember, though, your electronics lose value with every day they age. So, the sooner you recycle your electronics with us, the more we can help you earn the most for your investment.
Recycle Your Electronics Safely With RetirePC